Our Story
Ray Education Group originated in the United States in Chicago, Illinois. The Shanghai Headquarters was established in 2006. Now, Ray Education Group offers services throughout more than ten cities including Beijing, Guangzhou, Wuhan, Ningbo, Zhuhai, Hefei, Huhehot, and more. Ray is one of the most authoritative professional institutions in international education for operating schools and in the study abroad service industry.
Ray Education Group consists of two major business centers and overseas operations center. There are Ray International Academy (RIA), Ray Oversea Studies & Immigration Service Center and Ray Overseas Operation Center.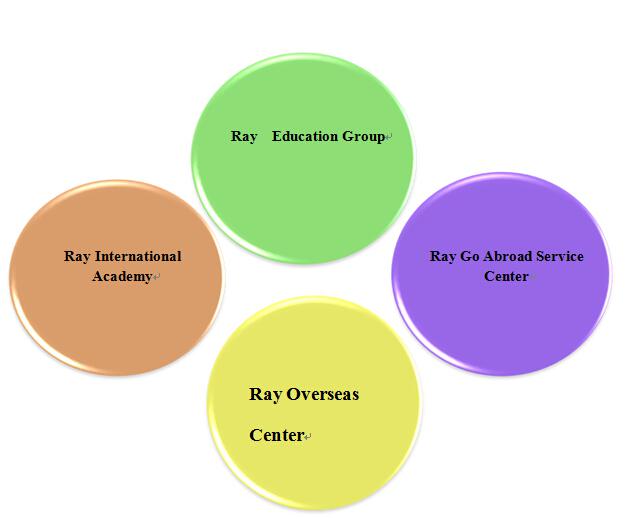 •  Ray International Academies committed to helping prepare students for university study through close international cooperation, the introduction of high quality education courses and developing international cooperation courses for all students. We offer an internationalized curriculum and teaching pedagogy catered towards the specialized needs of a student.
•  Ray Oversea Studies & Immigration Service Center provides study abroad immigration consulting, career planning, residency services, foreign services, and overseas employment guidance system, as well as a full range of international consulting services. We seek to help students achieve their dream of academic study abroad.
•  Ray Overseas Operation Center establishes overseas branches for overseas businesses. It has already established business centers in the United States, Canada, Great Britain, Australia, the Philippines and Malaysia. We introduce foreign students to China and sending Chinese students to learn abroad
Ray Education Group integrates and promotes different levels of educational resources all over the world. Ray promotes the integration of Chinese and foreign cultural education, as well as helps promote Chinese and foreign cultural education projects in order to build an international cooperation. Ray Education Group helps students who are interested in studying abroad and foreign students who are interested in studying in China. Our center has a reputable education curriculum research and development team composed of domestic and foreign experts, as well as a senior expert consultant team. Our education professionals are composed of experienced Chinese and foreign teachers' team and guidance counselors. At present, we keep close cooperative relationships with more than 10 countries. At the same time, Ray Education Group is an important partner of many professional institutions:
•  American University Board of Trustees
•  Pearson Education Group
•  The British Edexcel National Vocational Education and Examination Center
•  The University of Cambridge Examination Committee
•  China's Colleges and Universities Management Center
•  The American Association of Education Workers
•  Princeton
•  New York State University System
Ray Education Group researches and develops education cooperation courses for colleges, universities and middle schools. It is comprised of education scholars and experts all over the world. We offer international education solutions that are suitable for Chinese students, including international A – levels, IB courses, AP courses, international undergraduate preparatory course, international graduate study preparatory courses and undergraduate dual enrollment courses. So far, we have established international education cooperation and exchange relations with more than 30 domestic top universities and middle schools and helped thousands of Chinese students access the first-class universities for academic exchange and overseas for further study.